What is "Fast File Transfer"?
Many organizations still use FTP (File Transfer Protocol) to move large files. Slow and vulnerable to poor network conditions, FTP is legacy technology. International file transfers are especially problematic, frequently disconnecting and almost never reaching full line speed. Predictability and "guaranteed file delivery" are virtually impossible with FTP. FTP exchanges data over TCP/IP (or Transmission Control Protocol and Internet Protocol). This protocol makes accelerating file transfers with FTP difficult if not impossible. From timeouts to latency, TCP presents issues another protocol, UDP, does not.
Let's take a closer look.
UDP protocol
UDP-based Data Transfer Protocol (UDT) is a high-performance data transfer protocol designed for transferring large volumetric datasets over high-speed wide area networks. Such settings are typically disadvantageous for the more common TCP protocol.
Because file transfers over TCP take so long even with higher bandwidth, UDP has become the standard for accelerated file transfer.
FTP and other TCP-based file transfer systems rely on a guarantee that all sent data is successfully received and in the right order. Over long distances or unreliable connections, these built-in confirmations force TCP to send data slower than the network actually allows. Since UDP doesn't need such guarantees, file transfer applications can optimize network traffic and avoid potential slowdowns.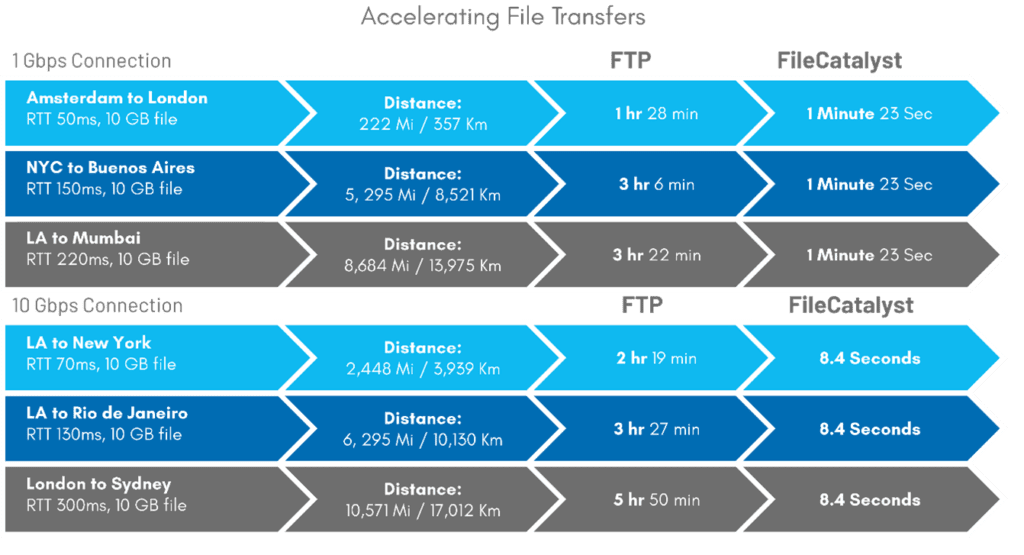 Introducing FileCatalyst
FileCatalyst is a robust accelerated file transfer software solution that supports client/server architecture, enabling the fast transfer of large files. FileCatalyst solutions are designed specifically to allow the transfer of large files over remote networks experiencing high latency or packet loss.
FileCatalyst provides FTP alternatives that permits to send files of any size or format at full line speed, hundreds of times faster than FTP, while ensuring secure and reliable delivery.
Each FileCatalyst product serves a unique set of organizational file transfer needs and works across a variety of industries.
On its own, FileCatalyst Direct uses the FileCatalyst Server and a full suite of client options for point-to-point transfers. Combining FileCatalyst Direct with FileCatalyst Workflow provides a complete managed and accelerated web-based solution.
Adding FileCatalyst Central allows you to monitor your organization's entire FileCatalyst deployment by offering a consolidated web-based view of file transfers on your network.
File Exchanges Simplified with File Catalyst Workflow
FileCatalyst Workflow is a web portal for all your file transfer needs. It simplifies file exchange and boosts productivity by streamlining submission, distribution, and file sharing workflows on the web. Users may submit files to your organization for processing, with full tracking at every stage, or they may securely distribute files to anyone with an email address. Additionally, file areas allow users to store files in your organization's private cloud for collaboration, with online access from anywhere.
FileCatalyst Workflow creates a web portal for uploading files and collects any information (metadata) needed to process those files (for example, processing instructions or quantity of goods ordered). Files and metadata combined are called a"job". Jobs may go through any number of phases while being tracked through the system until finally reaching the completed state FileCatalyst Workflow solves the problems of file transfer size and speed by acting as a middleman for the file transfer process. Files are sent to the FileCatalyst Server using acceleration technology. Recipients then receive an email containing a download link. All phases of the file transfer are tracked and managed.
­­­With FileCatalyst Workflow as the central storage location for one or more web folders, users have remote access to shared or personal files from anywhere in the world. Both upload and download are supported, and sharing can be at individual account or group levels. Group folders with individual read/ write permissions can be assigned to any number of users.­­
Central file transfer management
FileCatalyst Central is a web-based monitoring tool that acts as a united gateway to your entire FileCatalyst deployment. FileCatalyst Central allows you to view ongoing transfers in real-time, drill into transaction histories and reports, view alarms, remotely configure nodes, and initiate file transfers. From a single map view you can inspect connected nodes and remotely control them. FileCatalyst Central provides visibility to all FileCatalyst client applications and server nodes in a single centralized location. Adding additional nodes is easy; no additional network configuration is required for new nodes.
With the solution, you can set a wide variety of alarms for file transfer events, including successful, failed or canceled transfers. Alarms can be configured as SNMP traps or email notifications and can be viewed within FileCatalyst Central.
Moreover, reports are shown in near real-time. The reporting engine handles current and archived transfers with high efficiency. Reports are compiled based on individual nodes, groups of nodes, or sessions. This gives administrators instant insight into critical file transfers and the ability to quickly measure traffic and identify usage patterns.
High-speed file transfers to the cloud
FileCatalyst provides the fastest, most reliable, and most feature rich high-speed file transfer solution for moving data to and from the cloud. FileCatalyst takes cloud migration to the next level with features including automation, native cloud storage integration, and an extensive SDK for integrating accelerated transfers into your own applications. With support for major cloud providers and modern licensing options, FileCatalyst is your best choice for fast file transfers to and from the cloud:
Data migration: FileCatalyst has marketplace listings on AWS, MicrosoftAzure, and Google Cloud FileCatalyst can be used on any other cloud compute platform using the Bring Your Own License (BYOL) model.
Cloud Storage integration: FileCatalyst integrates natively with the most popular public cloud storage providers with speeds up to 5Gbps. AWS S3, Azure Blob, Google Cloud Storage, Dropbox, Wasabi, and Backblaze B2 are all supported. Files are streamed through FileCatalyst without landing on local storage and are transferred at the maximum speed the cloud storage provides.
Multi-cloud acceleration: FileCatalyst alleviates the stress of migrating data into public cloud-based object storage, and exponentially shortens transfer times with its patented file transfer acceleration technology.
Fast File Transfer and Microsoft Azure
Moving data into cloud storage presents challenges for organizations across all industries, and finding a tool that can move data to the cloud as fast as possible is one of the challenges. This is because of a barrier in place stopping users from utilizing the high bandwidth available to them. That barrier is the traditional FTP and HTTP-based solutions used to transfer files across the WAN. Furthermore, these solutions cache files locally and copy them into the cloud as a background process, creating the illusion of speed.
FileCatalyst has the ability to accelerate transfers into Azure Blob storage at multi- gigabit speeds. FileCatalyst Direct writes data directly to Azure Blob storage, allowing the data to be streamed directly without caching. With FileCatalyst, file transfer acceleration is achievable regardless of size, file format, or transfer distance.
Is FileCatalyst a good fit for your organisation?
Make no mistake, FileCatalyst is an incredibly powerful file transfer solution,
designed to accelerate and manage file transfers securely and reliably. FileCatalyst is immune to the effects that latency and packet loss have on traditional file transfer methods including FTP, HTTP or CIFS. Global organizations use FileCatalyst to solve issues related to file transfers including content distribution, file sharing, and offsite backups.
Ask for a demonstration by our expert.